Speaker: Francisco Miranda Topic Cattleya species of Brazil
BIOGRAPHY

Miranda Orchids started in 1999 and is a nursery specializing in growing mainly selected Cattleya alliance species. In a sense, it is a continuation of Boa Vista Orchids, a nursery we ran in Brazil from 1986 until we moved to the U.S.A. Many of the plants available are produced in our lab and nursery in Central Florida from our extensive collection of stud plants. The rest we bring from Brazil to increase variety and novelty. Being native Brazilians, and having had a nursery for many years, we know that there is a lot of development in Cattleya species being done there. This is mostly because a lot of those species are native from Brazil (including all the bifoliate cattleyas) and because these plants are favorites of growers there. Of course having lived and grown orchids for a long time there we know most of the growers and what is being produced and we go there several times a year to make sure we are kept up-to-date. Miranda Orchids also grows other Brazilian species so if you are looking for something in particular do not hesitate in contact us. Our goal is to be your number one source for selected Brazilian Orchids.
A taxonomist, naturalist and orchid grower, Francisco travels extensively in the U.S. and internationally speaking at orchid-related events and meetings. He has been doing this since 1988, while still living in Brazil. The subjects of these presentations reflect Francisco's extensive travels to study orchids in their natural environments.
Miranda Orchids is located between Orlando and Tampa, on the I-4 corridor. He will have a nice selection of orchids for sale.
Speaker: Thanh Nguyen Topic: Paphiopedilums
BIOGRAPHY

Thanh Nguyen is the owner-operator of Springwater Orchids (Melbourne, FL). He is an engineer by trade, but also has been collecting and growing orchids for 35 years. His orchid business began in 2001, mainly selling on the internet but gradually moved to orchid shows in recent years.
Thanh loves orchid species. And although he grows and sells all orchid genera, his forte has always been the genus Paphiopedilum. He collects fine plants; grows, sells, breeds, and enjoys sharing his experiences with his customers and colleagues. His passion in paphs resulted in numerous award winning plants and an on-going paph breeding program using local lab work, and local growing environment. His goals are to bring the excellence of a paphs breeding program back to America, and augment the enthusiasm of paph growing by way of sharing his growing experience and educational programs via shows and society speeches. You will see these goals reflected in his breeding program with well thought process to target various audiences; from easy growing/flowering plants to state of the art breeding catered to the most difficult collectors' interest, in parallel with conservation of breeding species, improving overall plant and flower quality, broaden their growing conditions to make growing paphs a joy, not an aggravation!
Give it a try, and buy a paph seedling!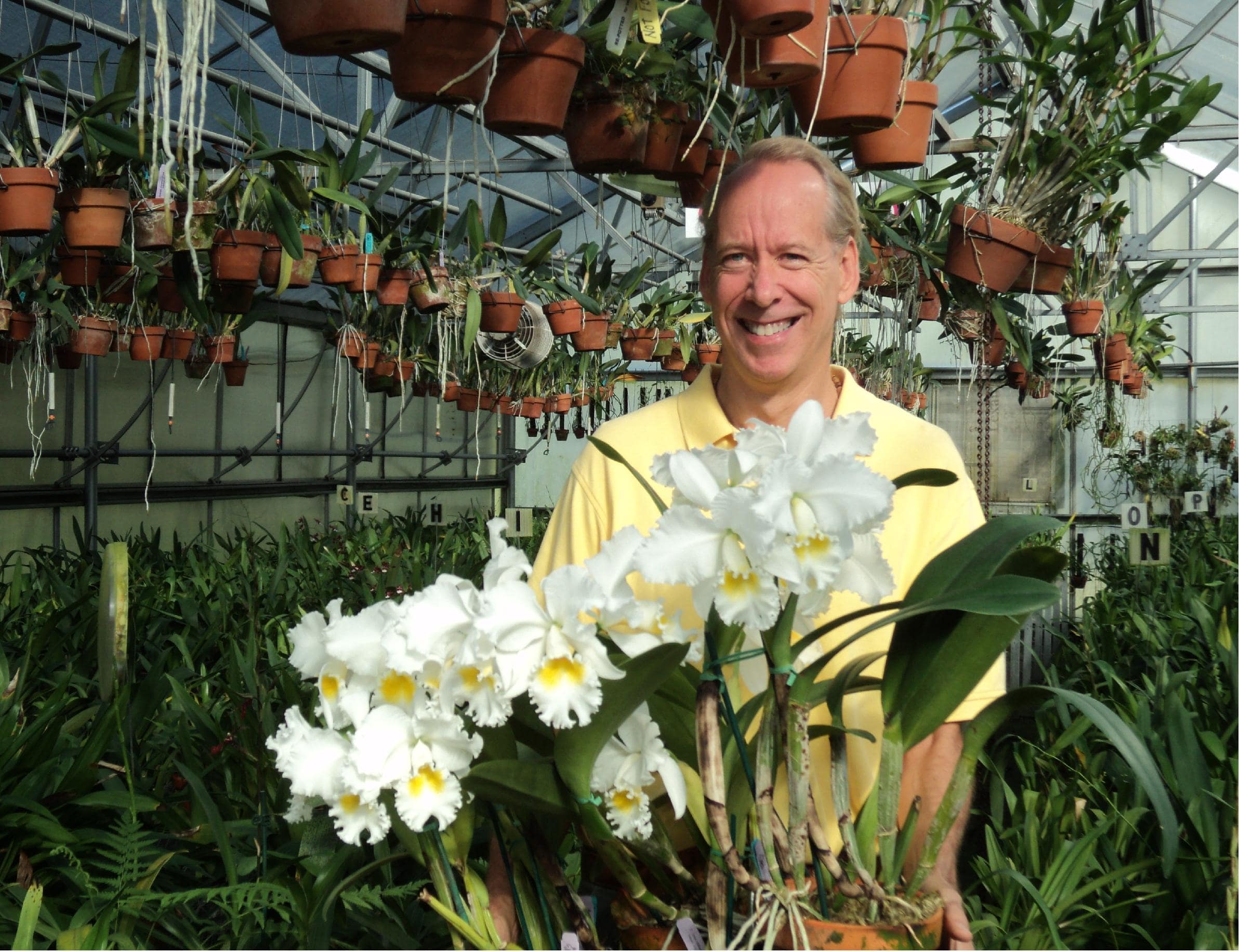 BIOGRAPHY
Art holds a BS in Electrical Engineering from North Carolina State and an MBA from James Madison University. He founded Chadwick & Son Orchids Inc in 1989 with his father who has been growing orchids since 1943.
'The Classic Cattleyas' is widely considered to be the definitive book on large-flowered Cattleya species and was written by Art and his father. Martha Stewart favorably reviewed the book and had both Chadwicks on her TV Show.
Art has the distinction of naming Cattleya hybrids after the wives of the last five U.S. Presidents and personally presenting the flowers to most of the honored recipients. He is a 'regular' on the orchid society speaker's circuit and has been fortunate to give lectures internationally (Western Australian Orchid Conference, World Orchid Conference in France). He is looking forward to speaking at the World Orchid Conference in Ecuador in 2017. Each month since 2002, the Richmond Times-Dispatch has published Art's orchid advice column. The Winston-Salem Journal now also runs the popular column.
Chadwicks operates 11 greenhouses in rural Powhatan County, a retail store in Richmond, and boards over 13,000 orchids for local clients. The company was recently featured in Southern Living Magazine and the New York Times.
Speaker: David Genovese  Topic: 

Grooming Orchids for Exhibition
Topic
David Genovese will be talking to us at the April meeting on "Grooming Orchids for Exhibition…a Tips and Tricks Hands-on Demonstration" We will be going over ways to clean, stake and arrange orchids so that they produce the best wow factor for both home decor and orchid venues such as monthly meetings, shows and other AOS judged events. Members are encouraged to bring a plant that they might want to exhibit so they can participate hands on during this learning activity. Plants in bud or with spikes not yet fully developed are the best to work with. Since 2007 he has a total of 39 AOS awards, including both flower quality and cultural awards, exhibit certificates and two AOS Show trophies!! David's presented is more of an open discussion with attendees rather than a straight lecture…questions are encouraged!
BIOGRAPHY
David has been growing orchids for 31 years. He grows many genera of plants but his favorites are the Vandaceous, Cattleya and Phalaenopsis groups. Approximately 30% of his collection are species, grown in a green house and in a screen enclosure. In addition to caring for and exhibiting plants, David also enjoys creating new hybrids and sharing with others what he has learned. 
He is an active Member of the AOS and CFOS.
Speaker: Roger Hammer  Topic: The Native and Naturalized Orchids of Florida
BIOGRAPHY
Roger Hammer is a naturalist, botanist, photographer, and survivalist instructor for the Discovery Channel's reality television show Naked and Afraid. He was the manager of the 120-acre Castellow Hammock Nature Center for the Miami-Dade County Parks Department from 1977 to 2010. He received the first Marjory Stoneman Douglas Award presented by the Florida Native Plant Society in 1982, and Tropical Audubon Society honored him with the prestigious Charles Brookfield Medal in 1996. In 2003 he received the Green Palmetto Award in Education from the Florida Native Plant Society. He gave the Keynote Address at the 2008 World Orchid Conference in Miami, and has given keynote speeches at several Florida Native Plant Society state conferences. In 2012 he received an honorary Doctor of Science degree from Florida International University.
Roger is the author of Florida Keys Wildflowers, Everglades Wildflowers, Central Florida Wildflowers, Exploring Everglades National Park, Attracting Hummingbirds and Butterflies in Tropical Florida, and the Complete Guide to Florida Wildflowers. He lives with his wife, Michelle, in Homestead, Florida.
DESCRIPTION
This presentation features the native and naturalized orchids of Florida. Of the 110 native species and varieties of orchids found in Florida, Roger has photographed 96 of them, which has taken him from the far western panhandle to the lower Florida Keys.
Speaker: Tom Kuligowski  Topic: Angraecums
Tom is a avid orchid grower, specializes in Angraecums, award-winning photographer for 45+ years, (tkangcm@live.com / www.angraecums.blogspot.com / www.facebook.com/tkangraecums) Angraecums tend to be known for their beautiful, showy flowers, many that are fragrant at night. Some can even become fantastic specimen plants in just a couple of years. With both species and several sought after crosses, the Angraecums offer some very unique shapes along with the most pristine white in any of the orchids. The amazing fact people aren't aware of, is that they can thrive in South Florida's sub-tropical weather or on a windowsill or a greenhouse in the not so warm north, if given the chance. This presentation will provide both hobbyists and serious growers with fundamental guidelines to grow these beauties successfully and in turn, grace you with years of enjoyment. All of the photographs within the presentation are of plants from his collection. Many of them showing the various growth stages (from seedlings to first time bloomers to specimen plants).